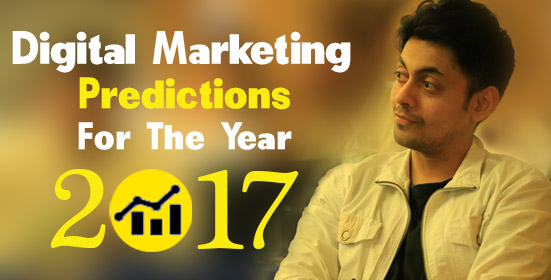 15 Dec

Digital Marketing Predictions For The Year 2017

Digital Marketing is one of the most Dynamic and Ever-evolving industry in today's time. Every player in the industry, small or big is adapting and shifting their Business Online, moving closer towards Digitalisation.

Our entire Business System as well as our Economy is moving towards Digitalisation and in the coming years, we are sure to witness the following changes and advancements in the field of Digital Marketing in India.

Here's what Karan Dharamsi, the CEO of The Marketing Nerdz has got to share about his Predictions for the shifts and changes in Digital Marketing for the coming year of 2017.
1. MOBILE MARKETING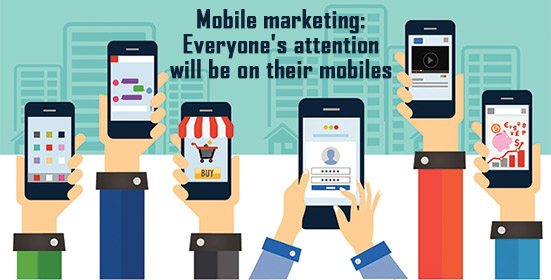 One of the most important and obvious change which will be witnessed is a complete shift to Mobile Marketing. Digital Marketing will go completely mobile.
As we all know, everyone's is Glued on their Phone. Attention is on the phone.
What better chance for a marketer to use this opportunity and make the most of the Growing Mobile Addiction/Attention times we live in.
In the coming years, this shift is only going to get massive, with more and more number of people getting hooked and addicted to their cell phones.
It will be absolutely imperative for each and every company (who wants to sustain in the market and survive the cut-throat competition) to adapt and master the art of Mobile Marketing.
Mobile marketing will see better results and conversions compared to the conventional desktop marketing.
Even the platforms like FaceBook and Youtube are updating their ads platforms and adding additional features to enhance advertising on mobiles and tablets.
So you too should be aware of these changing trends and design your marketing strategies in accordance to the same.
Text messages
Advertising during the calls
FB messenger ads
These three add-ons are going to be the game changers in the coming year!!
2. RISE IN ONLINE ADVERTISING COST
The cost for online advertising will go up on all the Digital Marketing Platforms.
Advertising cost for any kind of Online Marketing will see a hike.
With more and more people in the industry turning their business online, it is going to get all the more expensive for marketers to buy the attention of their potential leads.
There will be a lot of competition for Online space between marketers and advertisers as each and every one would want to grab the attention of their potential lead through their Online campaigns.
The positive side of this change is the fact that competition is a proof of the importance and value Digital Marketing holds in today's time!
Competition is a proof of the fact that there is a huge demand for Online Marketing in this industry 🙂
Another fact that emerged out of this change is that due to cut-throat competition around, marketers will be forced to focus on the CONTENT, and all the average ads which have been running successfully so far will be majorly, majorly affected.
Any Ad which does not focus on the quality of its content, or delivering the appropriate message for the audience through the content, will fail to receive the attention in all the clutter and competition around.
Delivering information
Rich content that addressed all the concerns and pain points of the customer
Addressing your customer's objections
through every platform is what will be extremely crucial in terms of Content Marketing.
3. UPDATES IN GOOGLE'S ALGORITHM
Everyone from Google, to Yahoo to Bing and many others will dynamically change and update their algorithms.
Thus, focusing only on SEO, or following the "black hat SEO strategy" will no longer work.
Every marketer will need to focus on delivering great content along with building strong SEO strategies for their Business.
For all the marketing campaigns, the focus should be on providing value to the customer through each and every marketing effort.
Eventually, that is what's going to be accounted for as far as results and conversions are concerned.
To get the desired numbers, to see your numbers rolling, these points will need to be taken care of on priority!!
4. LIVE STREAMING
And lastly, thanks to technological advancement, Live streaming will catch up BIG TIME!
Even right now, Businesses, Celebrities, and individuals as well are all using this technology of Live Streaming to give their audience, fans and friends real time update of their lives!
Your audience and customer want to see the real you, your real time updates which help them connect to you and relate to you and your Brand!
Hence, this feature will see a lot of use to build connections, trust and a sense of belongingness with your audience!
And here's one final sign off tip:
Platforms like Snapchat, Instagram and Facebook will be three of the top platforms which will become even more Relevant and Important for your Online and Digital Marketing campaigns in 2017 and beyond.
So if you still haven't, here's your final chance this year to build your audience network on these platforms and make the most out of it in the coming year!
Cheers to 2017!
The following two tabs change content below.
Karan Dharamsi
Karan Dharamsi is the CEO of The Marketing Nerdz. He is a Tony Robbins and Cloe Madanes Certified Master Strategic Intervention, Human Behaviour & Psychology Coach. He is also a Digital Marketer Certified Funnel and Online Advertising Expert. Karan is a Certified Copywriter by American Writers' Association Inc. And is a member of Circle of Success, a mastermind group of the best AWAI's Copywriter. Karan loves Entrepreneurs and he founded The Marketing Nerdz to help other entrepreneurs grow their business with the Latest Digital Marketing Strategies in the world.
Latest posts by Karan Dharamsi (see all)