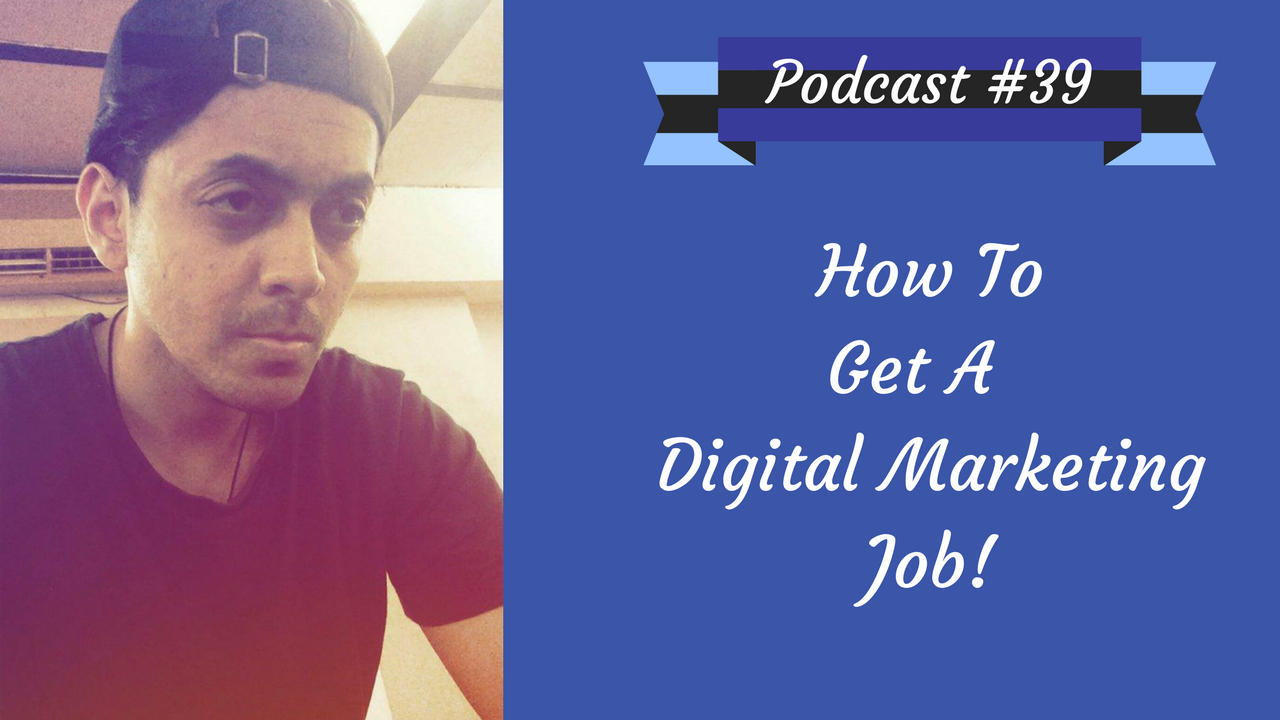 30 Jun

How To Get A Digital Marketing Job

In this episode of "The Marketing Nerdz Podcast", CEO "Karan Dharamsi" shares his 3 step strategy on how to get a Digital Marketing job.

This is a 3 part podcast series where we will be discussing each step in detail to help you get your dream job in Digital Marketing.

In this episode, Karan Dharamsi discusses more about the first step to get a job in Digital Marketing and securing your future which is to build a strong connnection network.

This is the formula derived from his personal experience from the time when he went on to audition for movies after completing his engineer.

At that time itself, he understood that just interviewing and auditioning is not enough if you want to get to the top of the ladder.

It is all about building your network, connecting and associating with the best in your industry.

As your network grows, you will get the right offers come to you. There won't be the need for you to go from place to place hunting for the right job for you.

If you have a strong network with all the right people, you will not have to do the hard work of interviewing and auditioning and instead you will be invited.

So, it is really very important to build a strong network and nurture strong relationship with the best in your industry.
Giving this contextual example, Karan Dharamsi points out the 2 different approaches to get a job in digital marketing:
You will go and interview with different company
You build a great network
So, wondering how to build this strong connection? Here's how you too can enter the network of the best digital marketers using LinkedIn as the platform:
The formula is to use LinkedIn to send in connection requests to all the heads of various departments of the Company that is the best in your industry. However, make sure to follow these 2 most important steps to make the most of this strategy.
Step number one to get the right job in Digital marketing is to build your LinkedIn profile
A great LinkedIn profile should answer the following question:
What do you do?
How can you help the company with your skills?
People who accept your connection should feel that they are making the right choice. So the first and most basic requirement is to create a great profile.
Step number 2 to get a job in digital marketing is to go to the jobs in LinkedIn and Send out connection request to people at high job posts.
Once you have set up your profile, go to the Jobs tab and enter your keyword for your particular field (digital marketing in this example) and also check the LinkedIn suggestions.
Once you get the list of companies with your search filters, find the people in higher position in those companies. Find the profiles of people who look into the hiring process for the company and send them a connection request.
Don't just send a connection request, but add a personal note while you send the connection request. With this message, get the attention from the right person.
Build a strong network, and focus on creating a list of great people from your industry. Having a great network will eventually get the right job to you and you will have a higher chance of standing out of the crowd.
So, go ahead and start building the connections on your LinkedIn profile and stay tuned for part 2 and 3 of this 3 part podcast series on how to get a job in digital marketing.
The following two tabs change content below.
Karan Dharamsi
Karan Dharamsi is the Founder & CEO of "The Marketing Nerdz". He regularly teaches Digital Marketing to Entrepreneurs, Miss Indias, RJs, Copywriters, Realtors, VVIPs, Students & Professionals at 5 Stars such as JW Marriott, Hilton, Crowne Plaza, Courtyard by Marriott & more. He helps people and companies brand & market themselves, get more leads & sales by sharing his Latest Digital Marketing Strategies.
Latest posts by Karan Dharamsi (see all)