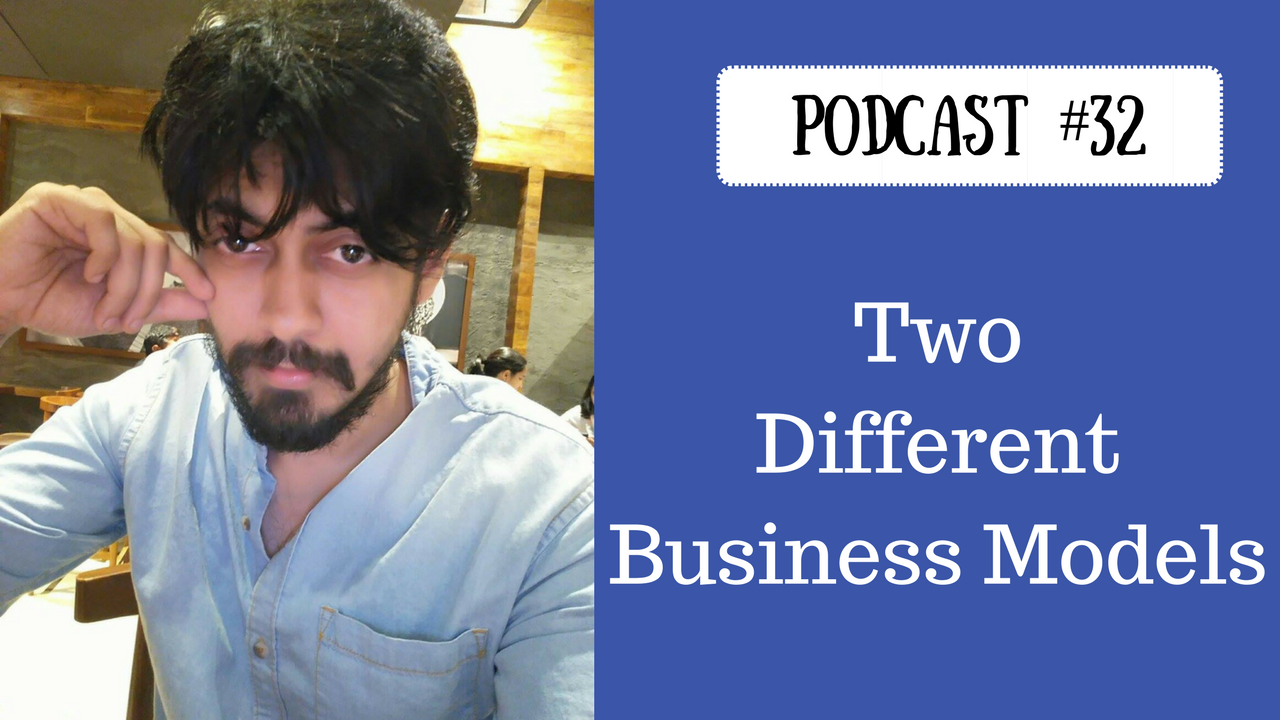 08 Jun

Two Different Business Models

In this episode of "The Marketing Nerdz Podcast" CEO "Karan Dharamsi" shares the 2 different Business Models and also speaks about how to select the best Model depending on your needs.
According to Karan, there are 2 basic schools or models of business:
Lifestyle Business Model
Real Business
So, wondering what these 2 types of business models mean and how to select the right Business Model?
These are the 2 broad categories of Business models in which majority of businesses and entrepreneurs operate.
A typical lifestyle business is where the person meets all his lifestyle needs to a larger extend. The business model is much more flexible and compatible to his needs and desires in terms of spending quality time with friends and family, going out on vacations, not having to worry about setting up his team etc.
And then there is the Real Business model. A typical business model with a routine structure in terms of work, outcome, hours dedicated etc.
Karan goes on to explaining the point further by elaborating Gary Vanerchuk's Business Model.
That is a typical example of the second type of Business Model. You Hustle, work hard and repeat the same thing day in and day out to grow and scale your Business.
On the contrary, a typical lifestyle business would be the one where someone operates his drop shipping business at the comfort of his own place, just by hiring one or 2 virtual team members!
He does not have to build a physical team at a physical location or commit to a workplace to conduct his business.
Speaking about the revenue generated in both the models, each of them are capable to earn millions.
However, when it comes to Lifestyle business, there is one major limitation!
The only limitation for a Lifestyle Business is scalability. It is surely possible but difficult compared to the other model.
This is because you are limited with your recourses in terms of manpower, inputs, work hours and ideas.
There certainly are exceptions, but majority of the lifestyle business reach a point beyond which scalability and growth is difficult and takes in a lot of efforts.

So, here are a few important questions you need to ask yourself to select the right Business Model out of the 2:

What do I like?
Am I willing to Hustle, sit at the office Monday to Sunday or would I prefer spending time
with Family and Friends?
Am I willing to do everything under the sun for my Business?
Is the Business meeting my needs and desires?
For you to work and contribute towards the growth and expansion of your business positively, it is very important that the Business model you select meets your needs!
You are your own decision maker. Pick what you like and pick the model where your heart it!
If you want to share anything about your Business Models or your take on one of the 2 broad Business Models, we would love to hear from you!
The following two tabs change content below.
Karan Dharamsi
Karan Dharamsi is the CEO of The Marketing Nerdz. He is a Tony Robbins and Cloe Madanes Certified Master Strategic Intervention, Human Behaviour & Psychology Coach. He is also a Digital Marketer Certified Funnel and Online Advertising Expert. Karan is a Certified Copywriter by American Writers' Association Inc. And is a member of Circle of Success, a mastermind group of the best AWAI's Copywriter. Karan loves Entrepreneurs and he founded The Marketing Nerdz to help other entrepreneurs grow their business with the Latest Digital Marketing Strategies in the world.
Latest posts by Karan Dharamsi (see all)