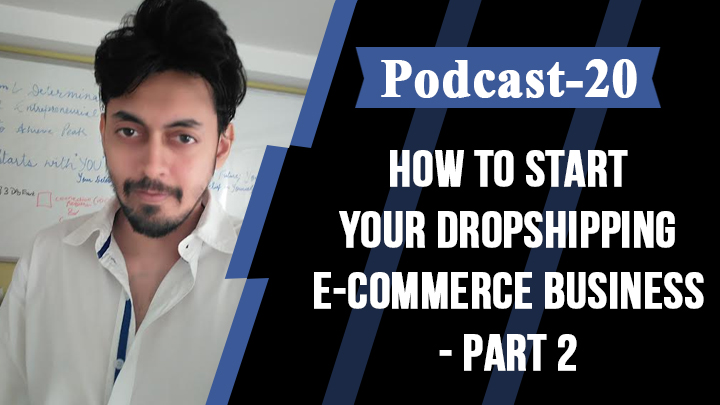 In this episode of "The Marketing Nerdz Podcast", "Karan Dharamsi", CEO of The Marketing Nerdz reveals the second most important criteria to look into while starting your own Drop Shipping eCommerce Business Model.
In yesterday's episode, he spoke about very first criteria of selecting the right product for your drop shipping eCommerce business and how it is equally important to get into a highly competitive market when you start your business.
In this episode of the 3 series podcast, Karan will be revealing and discussing in detail about the second criteria.
How to find the Right Supplier for your Drop Shipping eCommerce Business?
Yes, Karan answers in detail about how to go about selecting the right supplier for your product. Again, one needs to keep in mind several things while selecting their suppliers. This is to ensure hassle-free business and backend procedures for your brand.
To begin with, there are a lot of sites to find your ideal supplier. Few of the most common places to find your right supplier are:
Aliexpress.com
Alibaba.com
Indiamart.com
He goes on to explaining with personal experience how aliexpress.com has been the right place to find his ideal supplier. 9 out of 10 times, you too will find your ideal supplier on one of these platforms.
And, if you are unable to find the right supplier on these platforms, it's time to give your product niche a deeper thought! It simply means that there aren't a lot of suppliers who are selling the product you have selected for your drop shipping eCommerce business.
As discussed in the earlier podcast, make sure to start with a simple product, and once things fall into place, go more niched and detailed.
Once you find your Ideal Supplier, here's what you need to do next:
Check the Shipping and Delivery details with the supplier you have selected for your Drop Shipping eCommerce Business
The next thing to consider while selecting the ideal supplier for your Drop Shipping eCommerce Business is to send a message to the selected suppliers asking for further details like delivery time, product details etc.
Before anything else, the most crucial question to ask is if they do drop shipping! Once that is confirmed, you need to make sure all your other requirements are met too.
Delivery time is one of the most important thing to check while selecting you supplier. Some of the suppliers have a delivery time of 45-60 days and God forbid, if your customers receive damaged, broken or incorrect product, they have to wait for another 60 days or most likely, they would have a negative association with your brand. And you would always want your brand to be perceived positively. Hence, always check and plan the delivery of your products accordingly.
The next thing to check is the Shipping Amount charged by the supplier you have selected for your Drop Shipping eCommerce Business:
Some of the sellers offer faster and speedy delivery by charging and additional 1 or 2 dollars on the order. Hence, if you want your products to be delivered soon, you could check out the different shipping methods and amounts for you selected product and supplier.
And lastly, always check the Refund Policy of the selected seller for your Drop Shipping eCommerce Business:
A lot of times, your customers will ask you for the refund policies before making the purchase. Hence, always have the refund policy cleared out with your supplier at the very beginning.
To make it a hassle-free and smoother process, check out where your supplier is based from. This is important to make sure there are no communication distortion in terms of language barriers or restriction in understanding each others needs and requirements.
If it happens in the beginning, it will happen when you sell too and that is the last thing you want to get into, back and forth communication problems due to language barriers.
Once you follow each of these steps meticulously, you are just one step away from setting you your Drop Shipping eCommerce Business. More than half of the work is done when you select your product niche and the ideal supplier for your business.
The only thing that remains to to now understand how to put all the data collected into action, How to build your store and how to promote your product.
What platforms to use while building the store, how to market your product using Facebook and much more coming up in the next and the final part of this 3 series podcast episode by Karan Dharamsi, CEO of the Marketing Nerdz.
Are you too wondering where to start from? Do you already have a store but wondering how to promote and market it to get more customers and purchases? Well, get in touch with us and we would be glad to help you with your queries or questions! Also, check out our Facebook course on how to use Facebook to grow and promote your business.